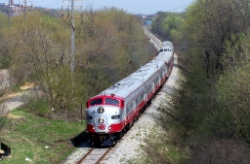 Welcome to the RRPictureArchives.NET contributor site of Jerry Krug.



I live in Wauwatosa, WI, an adjoining suburb of Milwaukee. My primary interest is the C&NW and successors, but I enjoy catching action and history of all railroads that serve Chicago, Wisconsin, and points west and north. I work a lot of self-employed hours at times, but I also usually have flexibility to go catch anything interesting. Local action includes the CP (ex-Milwaukee Road), CN (ex-Soo and Wisconsin Central), UP (ex-C&NW), and WSOR (ex-Milwaukee). I can roam as far away as Escanaba, Eau Claire, Oelwein, Cedar Rapids, Galesburg, Peoria, and Michigan City (and of course Chicago) and get back to Milwaukee in a day.

While heavily involved in the C&NW Historical Society, I belong to several others as well: Milwaukee Road, Soo, AT&SF, DM&IR, the new Illinois Central, Southern Pacific, and Shore Line. I enjoy learning about operations and history and viewing photos. While a frequent visitor trackside in the past, I did not own a decent camera until purchasing a digital model after Christmas in 2002. Thus, my albums reflect modern sights and operations. I have taken approximately 34,000 photos since then. I carry my camera in my car at all times to be ready for whatever comes along.

I hope you enjoy the shots on my sight. If you have questions or have corrections to any information, or are wondering if I have a shot of a sight or engine in WI, Chicago, northern IL, or eastern IA, I will be flattered if you drop me a line.

Jerry



You may browse my collection of pictures via the menu located on the left hand side of the page. I hope you enjoy the collection and thanks for stopping by!